John Whittle FCA Dip IoD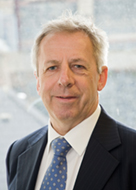 John is a resident of Guernsey. He is a Chartered Accountant and holds the IoD Diploma in Company Direction.  He is a non-executive director of 2 London listed funds, International Public Partnerships Ltd (FTSE 250) and Aurora Russia Ltd (AIM).  He is also acts as non executive director to other Guernsey Investment funds.  He was previously Finance Director of a large independent fund administrator where he successfully initiated a restructuring of client financial reporting services and was a key member of the business transition team.  Prior to moving to Guernsey he was at Price Waterhouse in London before embarking on a career in business services, predominantly telecoms. He co-led the business turnaround of Talkland International (now Vodafone Retail) and was directly responsible for the strategic shift into retail distribution and its subsequent implementation; he subsequently worked on the £20 million private equity acquisition of Ora Telecom.
Email: john.whittle@perusafund.gg
Michael Geary
Originally an engineer, Michael has over 38 years experience in Private Equity. After 8 years in 3i and then Charterhouse Development, he was CEO of an electronics company which was subsequently listed and later sold. From 1986 to 1992 he was one of the two founding directors of Prudential Venture Managers Limited, the in-house private equity company of the UK Prudential Group, before joining Euroventures BV as Chief Executive Officer, where he remained for 6 years.  Euroventures BV was the core of the then largest pan-European network pioneering venture capital in Europe.  Michael has held may non executive directorships in industrial and finance companies and was a Director of the European Venture Capital Association (EVCA) and Chairman Elect for 1992/93.  He has an MA in Engineering and Economics from Worcester College, Oxford.
Email: Michael.geary@perusafund.gg